Tonight's dinner was the easiest so far. 5 ingredients, and bamn! Easy cheaters chicken and dumplings. Now, the recipe (below) says to cook on high for 5-6hours. I cooked on low for 7. After 7 hours, Bruce turned him to warm. Through the magic of the Internet, I turned him back on to high as I was leaving the office so he'd be hot when I got home to drop in my "dumplings" to cook them.
The only thing I've found I need to work on through the this experiment is my sides. I clearly need more color in my meals. Otherwise, it was all worth every bite. The best part was having plenty of leftovers for lunch!
Let me know what you think if you try it.
Slow Cooker Chicken and Dumplings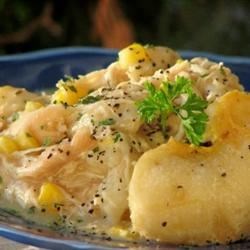 Makes: 8 servings
Prep Time: 10 mins
Cook Time: 6 hrs

4 skinless, boneless chicken breast halves
2 tablespoons butter
2 (10.75 ounce) cans condensed cream of chicken soup
1 onion, finely diced
2 (10 ounce) packages refrigerated biscuit dough, torn into pieces

1. Place the chicken, butter, soup, and onion in a slow cooker, and fill with enough water to cover.

2. Cover, and cook for 5 to 6 hours on High. About 30 minutes before serving, place the torn biscuit dough in the slow cooker. Cook until the dough is no longer raw in the center.