Today's meal was chicken vindaloo. One of my favorites at Garaj Mahal. If your kids are weird about flavors, you might want to make them something else on the night that you make this for yourself. Also, it takes a lot of spices to make. I think I used every jar of everything I own while making this, and had to buy some extra stuff. Who knew there were so many spices and cooking?
After today's rather extravagant lunch at The Salt Lick, we are taking a pass on eating dinner tonight. I actually don't think I could eat another bite. But I did try a spoonful of this, before putting it in the refrigerator. We will definitely eat it for lunch tomorrow. I have to say it's probably one of the spicier things I have ever made it home. My mouth was on fire, and it leaves me excited about tomorrow's lunch. After the flavors of had a chance to soak in a little bit more. I can already tell that this is a lunch that the kids will be eating a grilled cheese sandwich instead. If you have an opportunity to make it, let me know what you think.
Crock Pot Chicken Vindaloo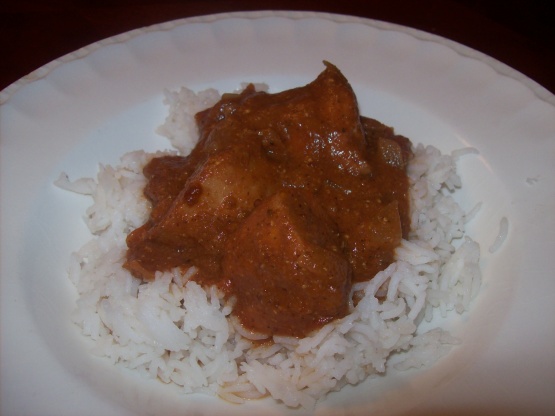 Makes: 3 servings
Prep Time: 10 mins
Cook Time: 5 hrs

3 tablespoons vinegar
3 garlic cloves, minced
1 1/2 tablespoons fresh ginger
3/4 tablespoon curry powder
1 tablespoon ground cumin
1/4 teaspoon ground cardamom
1/4 teaspoon ground cloves
1/4 teaspoon ground hot pepper
1 tablespoon mustard seeds
2 tablespoons olive oil
1 cup tomato sauce
1 cinnamon stick
1 small onion, chopped
3 skinless chicken breast halves, quartered, boneless
2 tablespoons fresh parsley, chopped

1. Puree first 10 ingredients in a blender.

2. Pour into the crock pot, add tomato sauce, cinnamon stick and onion and mix well.

3. Add chicken and turn to cover.

4. Cook on low for 5 hours.

5. Sprinkle with chopped parsley before serving.

6. Serve with rice or rolls, enjoy!