Oh what a great holiday weekend…so far. You're most especially welcome for the break from my blog postings since Wednesday. You'll have to forgive me, I'm not sure what came over me that particular day. I know it wasn't Jed.
I spent my Wednesday having fun with the kid, who was out of school that day. We ran a bunch of errands during the morning (shopping for poppa's birthday pressie, which I can tell you, cuz my kitten don't read my ramblings, was a "Don't Break The Ice" game that Adrian "just knows poppa is gonna love it".) I got him a few other things too…a pair of invisible underpants, and a bottle of lube, but I'm sure "Don't Break The Ice" will be his favorite. For lunch we met Leslie and Jed up at Chipotle for a little burrito action. Side note for you Yankees, there's no such thing as a "burrito" in Mexico OR Texico. "Burrito" translates into "little ass", if you will. And not the kind that you make love to, the kind you beat with a riding crop to get him moving with your cart of vegetables you just picked up from the market. So if you think reciting the menu from Taco Bell makes you bilingual, all you're doing when you order a "burrito" is calling the employee a little ass.
After lunch Adrian and I started working on preparations for the side dishes for Thanksgiving dinner. It was fun for him for about 3 minutes before he washed his hands and went to watch something on the idiot box and left me alone in the kitchen to cook and clean…much like his poppa does now that I mention it. The folks were on their way down from OKC and got caught up in multiple traffic jams. The usual 6 hour trip ended up taking them a little over 10 hours. Needless to say, they weren't NEARLY as happy to see us when they finally arrived as Nathan was. The squealing of "DAAAAADDDEEEEEE" when he got out of the car made me want to send him to the grandparents EVERY week just to hear him scream my name when he returned. I don't think the folks even turned the car off. Just dropped the kid off and headed to their hotel.
Thursday morning I woke up at 6 and didn't leave the kitchen until about 9 that evening. That's not entirely true…I was allowed out for 20 minutes to eat with everyone before getting back in there and finishing up deserts and loading the dishwasher. It was so nice having the folks on my turf again. Our very good folks, the Fenders, joined us as well. It was good food and great conversation. After lunch dad took a nap with Nathan while Adrian entertained himself and the rest of us played a rousing game of Phase 10. Some interesting conversation came up during the game:
Leslie: Babs, do you know what tattoos your son has?
Babs: Well I know he has a _____ on his arm and a ____ on his _____.
Leslie: Yeah, but what and where's his third one?
Babs: Uhhhh, I didn't know he had a third one, but it doesn't surprise me.
Leslie: Well Jed tried to draw it one night while we were all eating out together and I know what he drew was the tattoo, but it looked like a sea dragon or something and they were both laughing so hard we couldn't get it out of either one of them what it was.
Babs: A sea dragon, huh?
Leslie: Yeah. Just so you know Babs, when your son dies, I'm most definitely going to be pantsing him at the funeral. I just don't want you to be alarmed when I'm pulling his pants off him. I'm not a pervert or anything, but I have to know what that tattoo is before he's put in the ground.

And then, my most favorite conversation.
Babs: (F)reddy, can you show me how to create a MySpace page? I think I want to start a blog.
(F)reddy: (Spewing his beer across the table) WHAT? WHAT ON EARTH WOULD YOU WANT TO DO SOMETHING LIKE THAT FOR:
Babs: Because I find them entertaining. In fact, I've recently found yours and I've been quite entertained by your stories. In fact, you know which one of your blogs was my favorite?

Folks. I nearly died. FOR REALS.
Babs: The one where you took
pictures of my house
and made fun of me on your blog was my favorite!

OH MY GOD.
It took us all a good 20 minutes to stop laughing.
After the Fender's left mom and I spent a couple of hours on the internet trying to find things she wanted to buy for all the grandkids for Christmas. Having found most of the stuff on Amazon, she was delighted how easy the whole thing was…but then we noticed that Wal-Shart had one of the Madden NFL games on sale for Black Friday morning at about ½ of what it was on line. She asked if I'd take her up there in the morning. I told her I wouldn't do the "door-buster" thing, but that I'd run her up there so she could get them. So…
Friday morning I woke up at 430, ran to pick her up at the hotel and ran her to do her shopping. Things were not nearly as hectic here as they were in
other areas of the country
. We got in, got her stuff, and got out. We celebrated with "breakfast" back at the hotel afterwards. I ran home to grab a shower and the family and then met back up with the folks to drive to New Braunfels to hook up with Jed's family (aunt, uncle, cousins, cousin's spouses, cousin's kid, grandmother, and red-headed step-child). From there ALL SIXTEEN OF US caravanned from New Braunfels to Fredericksburg, Texas to do some Hill-Country shopping and eat some German food. We had a lovely time co-mingling the families and choking down some beer and schnitzel. I'm so glad pappy drove on the way home, cuz (F)reddy was a little more than sleepy. When we walked in the house I collapsed in my La-Z-Boy just as my mommy says, "Hey, why don't you put your tree up"? Huh? What? NOW?
Folks, my house is tiny. It's 1100 square feet if you've got the windows open. Jed and I are big boys. We have two very active toddlers, and two very needy dogs. Add 2 parents who are a little more than twice our sizes, and it's a very crowded house. So of course I…
Went to the garage and dug out all of our Christmas stuff. Granny wanted to see the boys' faces as we put up the tree. Moreover, she wanted to take pictures of them "helping me" put the tree up. And, I'll have to admit, as exhausted as I was, the boys really did have a great time setting up the tree and pulling off the ornaments as I put them on.
Saturday morning we got up early again and met the folks at Waterloo Icehouse of breakie. I had my standard Chicken Fried Steak and eggs with hashbrowns, toast, and copious amounts of coffee. After breakfast was over, we did our kiss n' cry in the parking lot and said farewell to the folks. Jed and I ran the boys to the theater to see Madagascar 2. It wasn't as good as the first one, but I enjoyed it nonetheless. After the movie we ran home and I got to take a much needed nap with the boys. After the nap, Jed CHALLENGED me to take Nathan to get his haircut. Never one to back down from a challenge, I accepted.
You should know, Nathan HATES getting his haircut. He considers any hairdressers to be his arch-nemesis. I once saw him (when he was two) snatch the scissors out of a woman's hand and stab her in the eye with it. Another time, I watched in horror as he grabbed the clippers out of a guy's hand and shave his balls with them. The hairdresser's, not Nathan's (cuz Nate's only 3 and don't got no hair on his balls yet.) To say he doesn't like getting his haircut is an understatement. You would think Nathan is Superman and haircuts are his kryptonite. OR, you could simply believe that Nathan is Sampson. We just don't take him that often because it is THAT horrible of an experience. The woman today certainly did a fantastic job AND deserved EVERY CENT of her 120% tip. I REALLY hope her hair grows back quickly, and I'm VERY sorry for handing him the lighter AND the hairspray at the same time.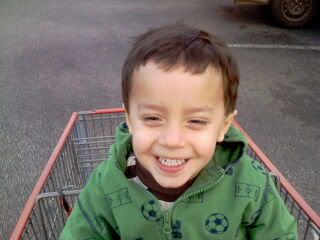 Tonight I made some Turkey Tetrazini for dinner with some of the left over turkey. It was delicious. But now I'm tired. I'm sure not half as tired as you are reading this, but tired nonetheless. I have one more day tomorrow to "relax"…but it'll be spent studying for my last week of school. That's good for you, cuz it gives you a week to read all this crap.