I had a truly fantastic three-day weekend y'all.
I was seriously exhausted when I got home on Friday. The boys and I crashed in front of the idiot box and watched Madagascar in preparations for the sequel this coming Thanksgiving Thursday. I'm really a kid at heart when it comes to my movie watchin', and I honestly can't tell you if I enjoyed it more or if the kids did.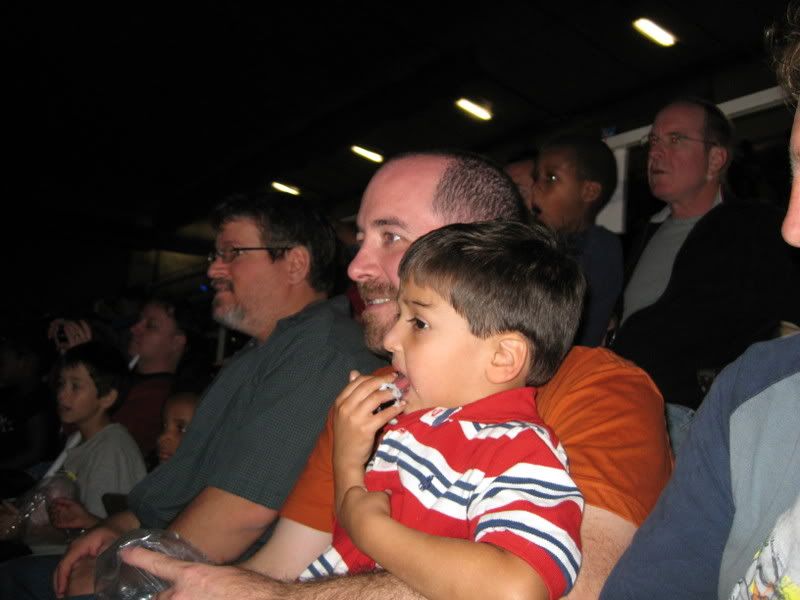 Saturday morning we took the kids to the Ben Hur Shriner's circus here in town with our gay dads group. I never really gave much thought to the treatment of circus animals in the past. I've seen folks protesting the Ringling Bros. Circus whenever it comes here and never really quite sure why. The size of the Ben Hur circus put us up close and personal to the action. We were RIGHT in front of the tiger cage. I think there were 8 tigers and one VERY OLD lion in the cage with the "tamers". The woman in the cage was a complete and total bitch. She was yelling at the tigers and hitting them with her little riding crop in the face. I never wanted to see a tiger attack as much as I did during that performance. I would have LOVED to see them Roy Horn her. There was an elephant there that I absolutely fell in love with. He/she/it was SO adorable. While the tigers and the lion looked miserable, the elephant truly looked like he was happy performing for the crowd. There was a dog trainer/clown that was a bit of a riot. There were token half-dressed chicks/performers that were completely wasted on me. The "high wire" act was lame-o. Honestly, with the exception of that sweet dancing elephant in the first half of the show, the rest of the first half sucked. THE SECOND HALF, however, rocked socks. They had this big steel globe that they put 5 motorcycles in and they were whipping and zooming around each other at such a high rate of speed that I was nervous they were going to crash into each other. Adrian was sitting on my lap as we were watching and asked, "Daddy, can you do that on your motorcycle". Uh, no. I can't. They had a human cannonball at the very end of the show that was pretty cool. We REALLY enjoyed the second half of the show. Cotton candy and all.
After the circus I dropped the fam off at the casa and headed to South Austin to help my friend Kay paint her new house. She had shit talked this house and how horrible it was for so long that I was actually surprised how nice it was when I got there. She and her fiancé have a TON of work yet to do, but the place is going to be spankin' when they get done.
After painting I headed back up north to meet the fam and our friends, Joey & Eddie and their two boys at Serrano's for dinner. We had the most adorable little waiter boy, lots of good food, and some pretty tasty margaritas. We said our farewells and headed home to get the kids in bed. I could barely keep my eyes open myself (and I'm pretty sure it wasn't the margaritas!). Jed and I finished off a disc of Popular before crashing for the evening.
We did our usual boring Sunday thang…grocery shopping, other shopping, park, etc. Something happened Sunday night that I'm still shocked and horrified with. I BURNED DINNER! Jed doesn't cook. In fact, I forbid Jed step into the kitchen even to get a glass of water. Yes, Jed fucks up water, folks! So I've been cookin' on the grill 2 decades now. If you live in Texas, it's pretty much a requirement that you know how to do it and do it well. I was making the same sausage that I've been making for 20 years on the same grill that I've been grilling for the last 10. I have NO idea what happened, but I'll be go to hell if I didn't burn that shit.
Adrian had the day off of school yesterday, so we dropped Nathan off at Daycare and had a day all about Adrian. (YES! I DO IT WITH NATHAN PERIODICALLY TOO!) He went with me to do my weekly Meals-On-Wheels delivery (and loved it), we went and got Jed's car registered and inspected, we went to the park, we made dinner together, we had a really awesome day.
Hope you had a great weekend yourself…now back to the grind…lerd I'm struggling with this Monday…er, uh, Tuesday!