Two all beef patties, special sauce (mayo & ketchup!), lettuce, pepper jack cheese, pickles, onions, BACON, on a plain ol' bun with a side of hand cut fries?!? MmmmMmmmmMMMM, delicious and nutritious.
While trying to decide between the SMO at The Onion today; the #15 with bacon at the Jimmy John's today; or a CHEESEBURGER at Hat Creek today, I decided to put it out into the universe on Twitter to let my friends help me decide. I so value the opinion of my
(f)ellow (f)atty
, Cousin Larry and the
(f)ormer (f)atty
, Walt, and the
never had-a-ounce-of-(f)atty
, (F)airy Princess Holly. Walt immediately responded with a cheeseburger, of course. Larry seconded Walt's emotion. And Holly, the voice of reason, reminded all of us that a burger isn't a burger without the loving embrace of bacon wrapped around it.
With the plan in mind I marched my (f)at ass down to the corner of Who-gives-a-shit and 6th to visit a new local favorite,
Hat Creek Burger Co
. I just loves getting food from a trailer. It reminds me of my childhood home…
I ordered the double meat cheeseburger with the "whole garden", bacon, pepper jack cheese, and a splatter of mayo and ketchup. Hold the drink, please. I'm on a diet.
Walking back to the office my heart pounded with anticipation. Or it could be that it was pounding because it's increasingly more difficult to get my blood to go through it…
Folks, the picture don't do the burger any justice. You can't see the coarse ground black pepper generously sprinkled on the top of the patties. You can barely tell the thickness of the THICK cut bacon. The cheese, DELICHEESIOUS.
CLEARLY I was in heaven.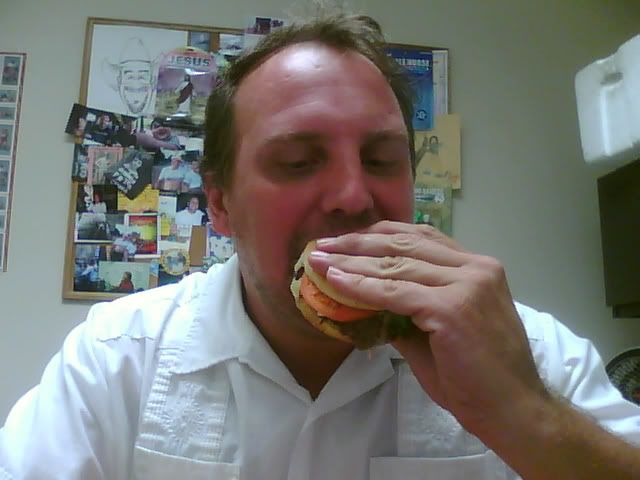 Thanks y'all for making my lunch fantastic. The only thing that wouldacouldashoulda made it better is y'all had been sitting across the table with me warshin' down some Lonestars.