Fall is my favorite time of year in Austin. The temperatures plummet to the low to mid 80's, and the boys start running around ALL over town with their shirts off. It's a beautiful site. OH, and it also begins FOOTBALL season!!! Now, I'm not a fanatic. I don't have 20 different channels of ESPN. I don't have stats memorized. In fact, as shallow as it sounds, if you mention a football team that is outside the boundaries of the Texas border, I may greet you with a blank stare. But I do love my Texas Longhorns. It would be a little more than difficult to live in a college town and not love your football team.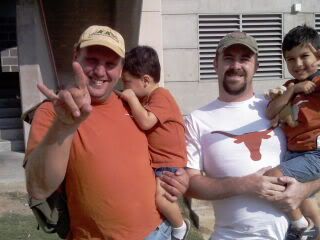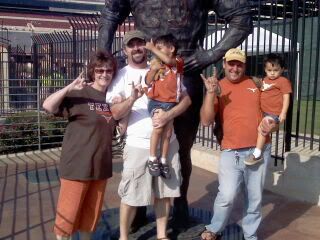 This picture is supposed to include ALL of Earl Campbell's statue, but such is the luck when you ask a stranger to take a picture.
Saturday was a rare night for us. Due to the hurricane, Jed's uncle was unable to come to town to see the game. So he sent us his 6 tickets and parking passes and told us to make it a family night. Jed and his mom spent Friday afternoon shopping for new Fan-gear for the boys (I guess I didn't rate). Saturday afternoon, after a very long nap, we all got ready in our best burnt orange and headed to the Darrell K. Royale memorial football stadium. We got princess parking in the parking garage directly across the street from the stadium. Finding our seats was a bit tricky. The stadium had JUST completed a massive expansion project, and it literally took us 45 minutes to find our seats. Now, due to Jimbo's generosity, we were given four stadium tickets and two box seat tickets. The stadium tickets were in the north end-zone, in the new section, and all together. The box seat tickets were on the west side of the stadium at the 45 north yard line. It featured free drinks and a buffet. While I really would have dug sitting in an air-conditioned box with food and drink with a bunch of strangers, we decided to bunch up cozy style and have a big fun family night in the end-zone.
We found our seats just in time for the University of Texas Longhorn Band to come marching in.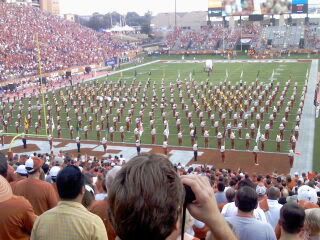 I love my State Flag. I think it's real purdy. I especially love the school's flag. When it's complete unfurled and spread out, it covers and entire half of the football field.
This really pumped up the crowd. (NOTE: This is ¼ of the stadium!)
Adrian really loved the game. The only part he didn't like was the cannon that exploded with every point scored. His most favorite part of the game was watching the real life BEVO grazing on the field during the game. He thought it was totally cool that there was a "cow" there watching the game. Bevo was a bit far away from us for me to take a picture, but at ½ time they put him on the JUMBOTRON!
Half-time entertainment featured the Longhorn band performing Zepplin's "Stairway to Heaven" (I could NOT make that up!) and also featured the Alumni band. The UT Longhorn Alumni band in the largest in the nation with 1500 participating members and 4500 non-participating members. While the alumni band was performing, they had band members all the way from the 1940's to 2007 out there performing. It was amazing to watch those old people blowing their horns.
After the alumni band performed, the current band rejoined for the final rendition of "The Eyes of Texas"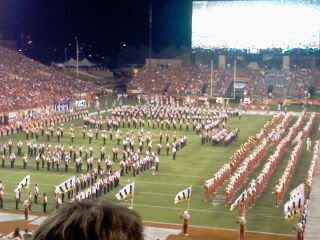 The game wasn't really all that exciting. In fact, it was a cake walk. After about 4 minutes, we pulled out our first string and gave our third string the rest of the game to get some actual practice time in! It was a fantastic evening out with the family though, I couldn't think of a better time to spend a briskly chilly fall night than watching football with my boys.
Hook 'em y'all.