As many of you may know, my precious baby boy started "big boy school" a couple of weeks ago. The first week went off without a hitch. Adrian LOVED LOVED LOVED big boy school. The second week…something changed.
Last Monday, while dropping him off at school, I got him out of the Jeep. He threw himself down on the sidewalk and started sobbing. "I DON'T WANNA GO TO SCHOOL." I just thought he was playing with me and being a little "precarious". So I pulled him up by his hair and dragged him into the school. He sass-talked me all the way to his class and said things like, "I hate this fucking place", and "I wanna go to work with you". When we got to his class room I followed procedure and put all his stuff in the appropriate file folders/cubes and escorted him to his seat. I asked him if he wanted to pick out a book and he just started crying. I said, "Well if you're going to cry like that, I'm just going to leave." He sobbed and sobbed and said he didn't want me to leave. It was heartbreaking. I said my goodbyes and headed out the door. Out of the corner of my eye I saw him shoot past the teacher and run down the hallway screaming at the top of his lungs, "DAAAAADEEEEE, PLEASE DON'T LEAVE ME HERE." I picked him up and carried him back in and told him he needed to stay and that I would be back to pick him up later. He cried and cried and cried. And, honestly, I was getting a little choked up myself. I headed out the door again and he chased after me a second time. The teacher caught him at the door this time and I kept walking. When I got to the front door of the school I could still hear him sobbing and screaming some ¼ mile away. It was brutal.
Tuesday: Rinse, reuse, repeat. My morning with him went EXACTLY as it has on Monday. When I picked him up from school I told him that his behavior in the morning was disturbing and I asked him why he didn't want to go to school. He said, "I don't want to go to school". I explained to him why he had to. He said, "But I don't want to". I said, "Adrian, Daddy does things EVERY DAY he doesn't WANT TO, but because he HAS TO. Going to school is non-negotiable. You HAVE to go to school." He replied, "But I want it to be gotiable." And I told him, again, it wasn't. When we got home that evening I went through practice drills with him as if I were dropping him off for class again.
Wednesday morning, to my surprise, he barely even said good-bye to me as I was dropping him off. I was proud of him. HOWEVER, when I picked him up that afternoon, I received the following two page, hand-written, letter from his teacher: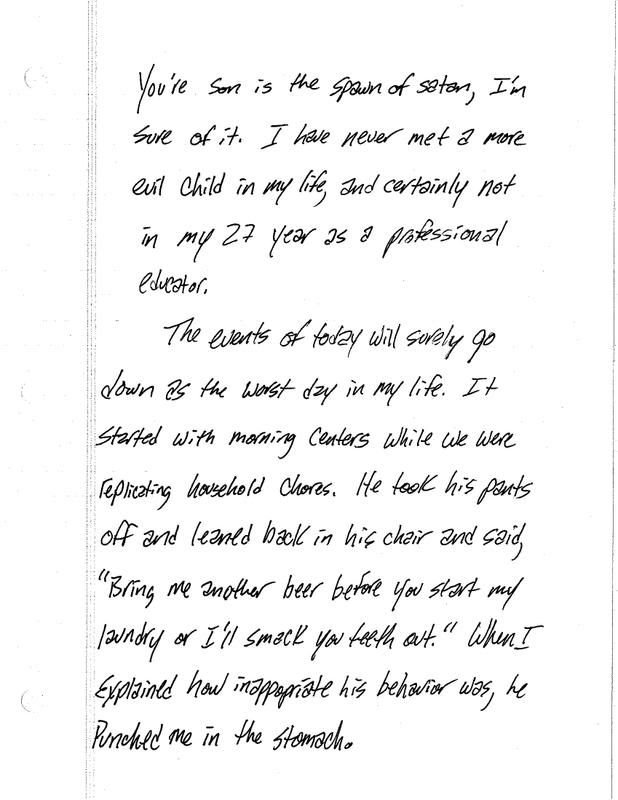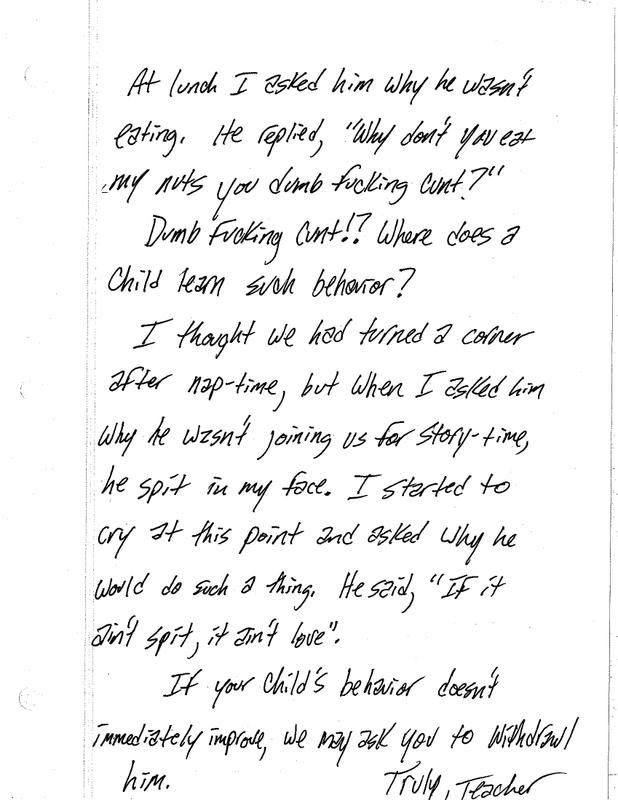 I was, understandably, horrified. I don't know where he gets this behavior. I certainly have NEVER said…okay, MAYBE ONCE OR TWICE I've said a FEW of these things. BUT who knew he was paying such close attention? I discussed his behavior with him AGAIN that night telling him it was "inappropriate" and yadda yadda yadda. He said he would do better.
Thursday I didn't get any letters from the teacher, however on his daily "mood calendar" that comes home he received another "stern face". Just a little side note here: Every day the kids come home with a calendar. There is a symbol on the day for how the child behaves. If the child gets a "STAR", they needed little redirection that day; if they get a "happy face", they needed minimal supervision; if they get a "stern face" they needed lots of redirection; and if they get a "sad face" they made the teacher cry.
Friday, yet another stern face, no notes. No eye contact from the teacher. I swear she was trying to hide a bruise in her orbit (EYE SOCKET FOR YOU NON-MEDICAL PEOPLE!), but I couldn't be certain. And I certainly wasn't going to speculate whether or not the bruised eye came from MY sweet child.
So over the weekend I brainstormed what we were going to do. AT THE VERY SAME MOMMENT, Jed's aunt emailed and said she was coming up this weekend from Galveston (PRE-IKE!) and wanted to know if she could take Adrian to Schlitterbahn on Saturday. For those not in-the-know, Schlitterbahn is a waterpark on crack. It's made the number 1 spot on the Travel Channel's Top Ten Waterparks for the last 17 years. It's an amazing place. Better than Disneyland, for reals. I told her that would be FANTASTIC.
I used this as bait. I told Adrian that if he got FIVE SMILEY FACES this week he could go to Schlitterbahn on Saturday. He said, "Thanks pops. You're the raddest fucking pop on the planet." And it's true, I am.
Monday morning while escorting the kid to his class I stopped in and apologized again to the teacher. I made sure she heard me say to Adrian, "Don't forget. You need FIVE SMILEY FACES this week." And she said, "Are you working towards something?" I said, "Yes. If he doesn't call you a cunt or spit in your face this week, we're going to SCHLITTERBAHN!!!" She said, "OH MY. That's a good goal to have!". And, indeed, it is.
Monday: Smiley face.
Tuesday: Smiley face…all eyes turn to the gulf.
Wednesday: Smiley face…mandatory evacuation of coastal communities. Anticipated landfall to include much of Central Texas with sustained winds of 70-110 miles per hour and 5-7 inches of rain. Tornadoes likely.
Thursday: Haven't picked him up yet, but Austin under a state of emergency, and people are being warned if they leave their homes this weekend they'll be shot.
How am I going to tell this sweet little boy that even though he's made his goal of getting FIVE SMILEY FACES this week that he won't be able to go to Schlitterbahn? To make matters worse, I THINK this is the last weekend Schlitterbahn is open for the summer. Do you THINK he's going to work towards this five smiley face goal again if I go back on my word? What's a dad to do.
***NOTE: The attached letter is not real. It is entirely fictitious, entirely made up for dramatic effect. While Adrian DID receive a two page hand-written note about his poor behavior on Wednesday last week, it wasn't nearly as funny as the one I have written.