ACL 2008 Rewind
For those of you who like to read short, witty posts, this ain't gonna be it. I'm sorry, but how can you shorten 39 bands in 3 days??? Feel free to skip it…but if you want to see videos, pictures, links to my favies (and not so favies), along with a recap of the event, read on my friend.
Our 2008 ACL experience began as it always has…early and drunkie. Jed and I hit the fields at 1130 SHARP (following a very large lunch at Hut's!). The first thing(s) we did after getting through the gate were A) Get our first round of beers; B) Got our souvenirs (cuz EVERY year I say, "Let's wait until the last day so I don't have to carry that damn thing around"…and without fail they sell out of the shirts; C) Hit the "art mall" to buy some pressies for some folks; and D) plopped ourselves down in front of our first act. I told Jed when walking to the stage that I enjoyed
Asleep at the Wheel
, but that EVERY time I saw them they were playing "Big balls in cowtown". And I'll be go to hell if that wasn't what was playing as we walked up. The band really does put on a decent show though, and BBICT really is a good song! The band I was looking forward to the most this year was my new favorite,
Vampire Weekend
. Our friend Kevin turned us on to them a few months ago and I've been obsessed with their album ever since. The show was really good. Our friends, Joey & Eddie, happened to show up midway through their set and enjoyed them as well. This may not matter to you much, but Joey is OLD and "doesn't like too much noise"…so for him to say he enjoyed it is a BIG deal! Next up was
Louis XIV
. By the time we hit their stage, I was on my 3rd 24 ounce:
I was, seriously, feeling no pain. And Louis XIV rocked it out of the park. Next up we pulled up next to
Jamie Lidell
. He was a cutie pie, and had a really nice sound…from what I remember? Next up was
Patty Griffin
, an old timey favorite. She didn't disappoint, but rarely does anyway. We pivoted in our chairs from her stage after she finished to catch
Del tha funky homosapien
. Ya know, call me an L7 if you will, but I enjoy all types of music, even hip-hop (And UNLIKE KENLEY, I KNOW WHAT HIP-HOP LOOKS LIKE). But this wasn't music. This was just plain shit. DID NOT ENJOY. So we headed over to get an injection of the 80's by listening to
Mates of State
. Yeah, I got taken back to Duckie trying to pretend he was into Sam, but knowing that Duckie would go limp as soon as Sam took her panties off and realize he was gay. Those were the good old days. And speaking of gay ducks…I can't believe the dude in Mates of State ain't. In fact, when I read the two were married, I nearly shit my pants. I surely needed another beer. Having ridded my mind of the "music" of Del the funky musician, we went on to
Hot Chip
. They weren't…hot, of course, but they were a phenomenal band. They were so gay, however, that they made New Order look straight. Let's not hold that against them though, mmmmmkay? Having gotten sufficiently lubricated and gotten my dance on, we headed to
Slightly Stoopid
and they were. Next we found ourselves dreaming about the good old days of classic Talking Heads by having a love fest with
David Byrne
. I take it back, salt n' pepper DOESN'T look fabulous on everyone. We headed back up the hill to see
N.E.R.D.
. Now, again, I didn't particularly care much for the band. NOT THAT I'M AGAINST ROCK-HOP PEOPLE…seriously, I have nothing against heavy metal hip hop. IT-JUST-AIN'T-MUH-STYLE. BUT we decided to stay because I saw the gayest man I've ever seen, besides LJ, dancing like a fucking pole-dancer in a titty bar to this heavy metal hip hop music. It was so out of place and out of context that I couldn't help being entertained. The absolute most hysterical part of the show was when the band asked "Which one of you big booty bitches wanna get up on dis stage and shake yo titties" and the queen SQUEALED with delight and raised his arms above his head and gave the band his best "spirit fingers". I nearly pissed on myself at that point. See for yourself:
We pivoted again after N.E.R.D. to cap off the night with
The Swell Season
. For those of you who saw the movie "Once", these were the two folks in the movie. They're now porking each other in real life. The sound was REALLY off on the AT&T Blueroom stage for this show, and it made it really hard to hear them.
The next morning we did the same ol same ol. We hit the park right after breakfast. Since we didn't have to worry about pressies, we hit the beer first this time. We started off the day with
The Black & White Years
. THIS BAND was seriously my break out band for this year's ACL. JED didn't love them as much as I did, but then again Jed was being "affected by the heat" and wasn't standing up watching these guys perform. Now I know there are some of you out there saying, "THERE HE GOES AGAIN…TALKING ABOUT ANOTHER AUSTIN BAND…THE ONLY MUSIC HE LIKES IS FROM BANDS FROM AUSTIN." You know what? Fuck you. So what if we have some of the best musicians in the world. Deal with it. These guys, seriously, have the stage presence of a pretty Freddy Mercury. They took my breathsticles away. While we were standing there, this hottie came and stood in front of me: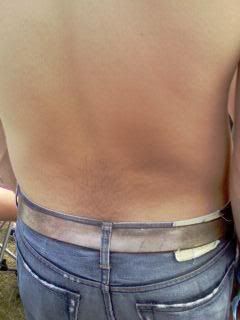 Now, his face WAS decent too, but sweetie, if you're going to be that fine and jump in front of me with your shirt off, please know I will always take a picture…Reluctantly we left back crack and The Black & Whities to go over to see
Old 97's
. Alt country? WTF? We left The Black & White years for ALT COUNTRY? You know what "alt country" is? It's people who weren't talented enough to make it with REAL music, so they MAKE UP A GENRE. Alt country? Blow me. I tried to get away quickly to see if TB&WY were still playing, but they were gone…sadsies. So we headed to
Fleet Foxes
next. They were very CCR or Dave Matthews, or a marriage of the two. Which would be fine, except for the fact that I really don't care for CCR and can't stand Dave Matthews. It seems all of our stages were at the AMD stage and AT&T blueroom stage, cuz we, again pivoted to catch
The Fratellis
. This was the band that Jed was looking the most forward to, and they didn't disappoint. They really rocked the roofless house. Another dude I was looking forward to was
Jose Gonzalez
, but after a mere two bars I was suicidal and felt like I needed another beer to feel better. It is so rude to make people want to kill themselves in the middle of t he day when they're buzzed. It was more depressing than Tori Amos, for reals. So we loaded up some more beers and headed over to
Band of Heathens
. More alt country. In case how you missed how I feel about Alt Country, IT SUCKED BALLS. So being intrigued by the band name, we headed over to
Man Man
. Surprisingly they weren't AT ALL gay. Nor were they at all good. I was beginning to think Saturday was going to be a bust…but then we heard the sounds of
CSS
. Now, granted, the woman fronting the band was wearing THE MOST HENIOUS OUTFIT I HAVE EVER SEEN, she was a performer along the level of …oh what's that blonde girl's name from that band No Doubt??? Her. They put on a really fabulous show. But I think she underestimated what the Texas "fall" would do to her hair. Sweetie, when it's "fall" in Texas, IT'S STILL 100. Next we headed to see the lovely and talented, Ms.
Erykah Badu
. I don't even have to say how her show was. (AND THIS ALSO PROVES THAT I DON'T HATE ALL MUSIC SUNG BY BLACK PERFORMERS!) She was amazing. She came on about 8 minutes (okay, she WAS EIGHT MINUTES LATE), and while I normally don't appreciate my valuable time being wasted, I forgave her cuz she was so fabulous. Some of you may be wondering, by the way (as I got a text message from our friend Dean asking…during the show) "was she wearing her turban"? She wasn't. She had her big hair on this weekend. Next we headed over to
Electric Touch
. They were AMAZING. They were the second best band of the day. And they completely made up for all that Alt Country shit I had to hear earlier in the day. Next up was
MGMT
. Now, I am not going on record here saying this was the largest crowd I've ever seen at ACL, cuz, really, after the sun goes down it's difficult to gauge how large a crowd is at any given stage. HOWEVER, this show was at 530. WELL before the sun went down, and I would venture to say that more than half of the total ACL audience was at this show. It was an incredible amount of people there to see them: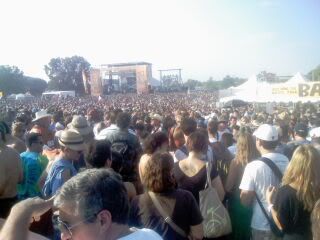 Since we were already at the AT&T Blueroom stage and really wanted a better position for the Black Keys, we basically just pivoted from our position to catch
John Fogerty
. Now, when you hear people say, "Time marches on", they must mean on John Fogerty's face. Cuz the man is fuglerty. In fact, he should change his name to John Fuglerty. AND, John, sweetie. Was it TOO MUCH TROUBLE to come up with some NEW MUSIC? I didn't need to be whisked back to NINETEEN SEVENTY. Jesus. So thank god he ended and The
Black Keys
came on to bring me out of my funk. Amazing show, really…really amazing. We left the set a bit early to get in a decent position for Beck. While we were waiting for his set, we were about 200-300 yards from the
Iron & Wine
stage. Iron & Wine should date Jose Gonzalez so they can date each other and put each other out of my misery. DEAR GOD. Kumbayah my lord, much? Oh, and for the record, Iron & Whine is FROM AUSTIN…so NO, I don't like every band from Austin and hate everyone else.
Beck
put on an amazing show for the amount of show we saw. I don't normally stay for the last shows of the evenings because A) they're always the most popular artists and always the most crowded, and B) I don't particularly feel like being one of 65,000 people trying to catch a shuttle back to downtown at 10 pm, particularly when each bus only carries 45 people at a time. So we stayed for five of Mr. Beck's songs and then headed to the ranch, fat and happy.
Sunday was a bittersweet day for us. We said goodbye to Jed's mom for the first time in 3 weeks. We sent her back to Galveston to deal with the damages of Hurricane Ike. And while we would have loved to have been there to provide her emotional and physical support, we had ONE MORE DAY OF ACL!!!! So we took the kids with us on Sunday. And there is NOTHING I love more than seeing a four year old dancin'! We started off the day with one of Jed's ALL TIME FAVORITES,
Nichole Atkins & the Sea
. Since we were the 5th people through the gate on Sunday, we got close enough to see Nichole's labia knot.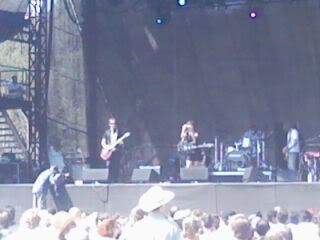 Her show was FANTASTIC. The kids were dancing. The music was fabulous. The beer was already cold. Jed was happy. (F)reddy was happy. It was a happy day. Next we headed over to the Austin Kiddie Limits stage to eat ice cream and watch
Big Don
's show. NOW…BIG DON IS A HIP-HOP ARTIST. AND I ENJOYED HIS SHOW. So quit calling me a hip-hater. Of course it helped that I had some of this to look at:
And some of this…
Oh wait…that's the same person. Bygones.
So we hip-hopped our way through the ABC's before heading over to
Sybris
. We didn't actually get to their stage as much as we got in the beer line across from their stage. And they sounded like something I would be interested in exploring further. We couldn't deviate from our plan, cuz we needed to head over to
The Kills
. And these mother fuckers killed. They were awesome. Amazing. Stupendous. Adrian was crowd surfing. Nathan was thrown in the mosh pit and banging heads. They were great. Then we headed over to
Octopus Project
. Uhmmm. Okay. So it was 230 in the afternoon maybe? A SUNDAY AFTERNOON. And I had only had ONE beer. It was a bright sun-shiney day. Oh, and I had MY KIDS with me. They were HOUSE MUSIC. Which I actually enjoy…in a dark bar at 1 am when I'm loaded with WHISKEY. Next up was
Tristan Prettyman
. And she was. And she was just what I needed to hear at that point to bring me back to my happy place. We went back over to the Kiddie Limits tent to see if the boys had won any of their drawings for the day, they hadn't. But I got to see this yummy character…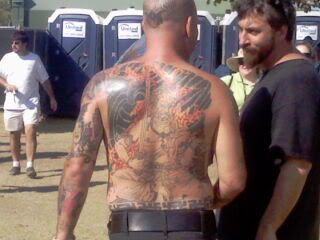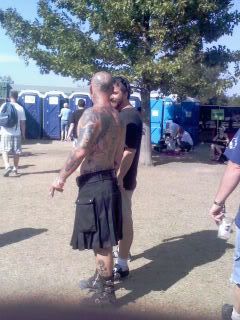 I like a man covered in tattoos. It's muh weakness. And I also dig a man in a skirt. I had a raging boner when he turned around and smiled at me…and was missing his two front teeth. Guess what DOESN'T turn (F)reddy on??? Yeah, a toothless smile. So, back to the music.
Completely flaccid again, we headed to
Stars
. Another great band. They, again had a pleasant 80's sound, and it, again, took me back to Duckie and Sam. We walked up the hill to catch
Neko Case
. Now, we've seen Neko before, when she opened for that butch quarterback, Rufus Wainwright, at Stubb's. She puts on a good show. And while I'm not opposed to seeing bands at ACL that I've seen before (GHOSTLAND OBSERVATORY), Neko just isn't someone that I feel I HAVE to ever see again. Kind of like my ex. Does that make sense? So we headed over to Jed's other favorite band (who we happened to see at ACL LAST YEAR),
Heartless Bastards
. The put on a really strong show. One thing I found odd about their show though is they were put on a much smaller stage than they were on last year, and they had just as big of a following this year as they did last? That didn't make much sense to me, but I was also drunk. Nathan, like Jed, apparently really digs them bastards too: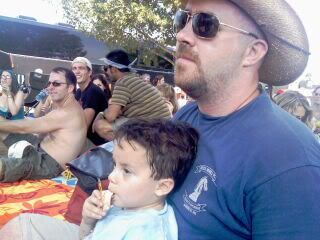 We then headed over to
Okkervil River
. I was expecting some bluegrass/banjo-y, cousin lovin' music. These guys are, apparently, also from Austin? I didn't hate 'em? But I feel the same way about them now as I feel about Neko Case. The best thing about them was more delicious body art:
I was also, at this point, getting delirious from the heat. It was UNGODLY hot outside and all the beer had zapped any "real water" out of me. We decided to hit one more band and then run the kids home…since they had behaved so incredibly well through the entire day. We wanted our last band to count, so we hit
White Denim
. Nathan crashed out in the grass on a blanket and daddy rocked it like he was at his first White Stripes concert. They were amazing. Really, really amazing. And the most amazing thing happened while they were performing…the sun went down, and it cooled off an instant 50 degrees…and it felt beautiful outside. So we stayed for half their set and decided that I DID have the energy and stamina left to go see my IDOL, Jack White, performing with
La Raconteurs
.
OH
MY
GOD!
I had died and gone to heaven. What an amazing 2008 ACL.