Normally when I think of blasting my batter I think of Christopher Meloni making sweet prison love in Oz:
I was a little tickled this past weekend when walking through the dairy aisle of my local HEB when I came across a new product. I had to buy it, cuz I didn't have my phone handy to just take a picture:
It's an "organic" Batter Blaster, read: Pancake/Waffle batter in a can, much like a cheese whiz can, or a can of whipping cream. Is this product really necessary? What's wrong with making your pancakes the old fashioned way?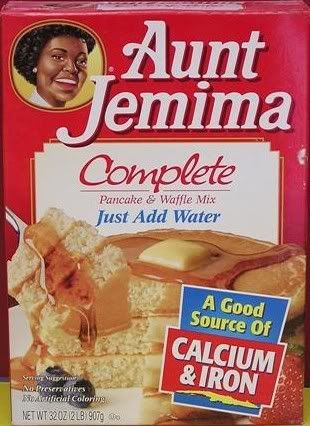 Or better yet, the REAL way? I'm sure many folks don't realize this, but before heavily processed foods, people actually used to make their own pancake mixes. (I'll share mine with you at the end of this).
So I woke up early with the kids on Saturday and Adrian wanted some waffles. I was just getting ready to get the box out of the freezer when I remembered Christopher Meloni splattering his pancake batter on my chin. I dug out our waffle iron and dusted it off, and grabbed the Batter Blaster out of the fridge. 5 minutes to heat up the iron and then I pressed the nozzle: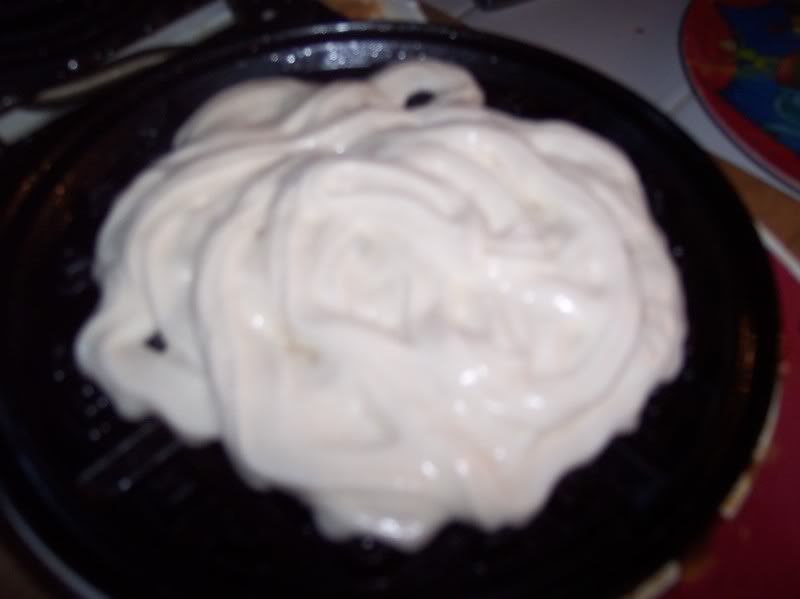 It was simple…effortless. A few minutes in the iron and:
It was so simple that each kid got two and I even got one. (The can CLAIMS "30 silver-dollar sized pancakes"…or in the case of my family, 6 waffles). They were a'ight. In fact, Adrian loved them:
But I'm still not convinced this product was necessary. My dad, "Pappy (F)", is the world's greatest pancake/waffle chef. I don't know if it's because he makes them with lurve in his heart, or the ¼ cup of butter that goes on top of each waffle/pancake he produces. Maybe it's a combination of the two? I thought he would take his world famous pancake recipe to the grave with him and I was always afraid to ask. My balls dropped last summer and I finally asked him for it. ALL these years I thought my pappy was a genius (and he may very well still be).
2 ½ Cups of flour
1 Tablespoon sugar
4 Teaspoons baking powder
¼ Teaspoon salt
2½ Cups milk
½ Cup oil
2 eggs
1 Tablespoon vanilla
And, of course, butter and syrup.
Wha? You don't just add water? Dear Bessie. But wait a minute…MANY (if not all) of these ingredients are common household ingredients. You mean YOU can have hot delicious waffles for PENNIES rather than buying a can of Christopher Meloni love? Oh…just in case some of you are going to try pappy's recipe, and are sticklers for rules, I feel I should point out that you actually have to COOK the batter referenced above. Don't just mix it up and eat it…you'll be disappointed.