We decided to put another check mark in our Texas Landmark Cafes book this weekend. Saturday evening for dinner we headed out about an hour and fifteen minutes southwest of Austin to a little place called Marble Falls to eat at
The Bluebonnet Café
.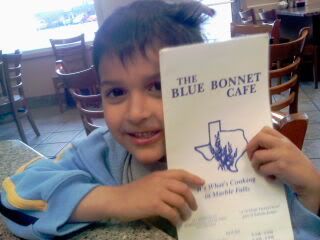 The Bluebonnet has been in business since the 1930's and they offer up some really tasty southern home-cooking treats. And the pies! DID I MENTION THE PIES???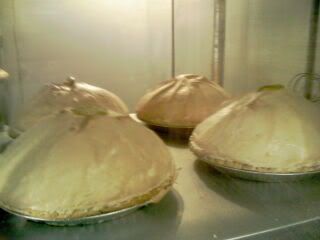 Jed and I really MUST drop the "you can't order that, I'M ordering that" crazy rule we have. Cuz what I REALLY wanted was the chicken fried steak! But that's what Jed wanted. I ASS U MED that since he ordered the 8 oz. (over the 4 oz.!) chicken fried steak that he intended to share. But, once again, I just made an ass out of myself!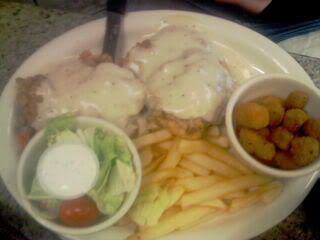 Instead, I settled on Mom's Famous Pot Roast with buttered carrots, mashed potatoes, and fried okra.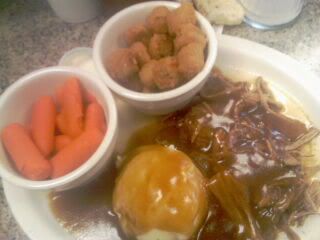 Now, OBVIOUSLY I didn't hate my dinner: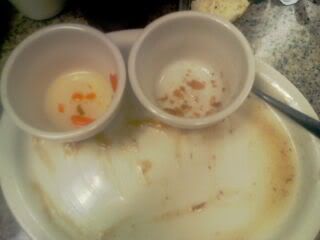 However, I did have some things I didn't like. FOR STARTERS, when our waitress brought out our dinner, she brought mine and Jed's. Apparently the boys cheeseburger they were going to split wasn't ready yet. And it wasn't ready for a good ten minutes after she brought our food. Listen, when there are toddlers at the table, it's a good idea to maybe bring their food FIRST! Secondly, as good as everything else was, I was really shocked at how shitty their dinner rolls were. For reals, I've had better dinner rolls out of a can. BUT, fortunately, all the rest of the food made up for the shitty dinner rolls. Even Nate forgave the waitress by REALLY getting into his burger!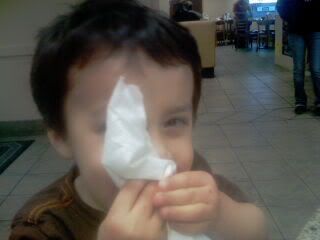 He's such a well-mannered kid…sometimes!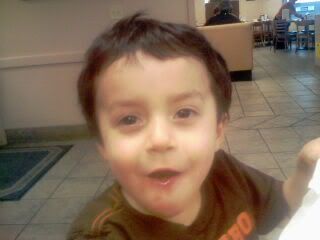 Bluebonnet Café, my love, I give you:
4-stars.