I'm a sucker for old timey nostalgia. I enjoy getting off the major arteries in town and getting out a bit into the country and seeing things in the country. To that end, I had a couple of items on my Amazon wish list to help me find some points of interest along the way in Texas. Two years ago Jed's mom bought me "Texas Landmark Cafes".
Over the last two years I've kept it near me, either in the car or in my backpack, so that if we happened to be out and about I could see if there were any places in the book we could scratch of the list. We have actually been to quite a few over the last couple of years.
This past year Jed's mom got me Volume 7 of the Texas "Off the beaten path" series. It not only lists restaurants to try in out of the way places, but offers suggestions of places to stay, shop, play, and see. When I woke up this Sunday morning I had a hankering to get out of life for a few hours and asked Jed if he wanted to take a stab at finding a place in either of the books and going for lunch. We had a limited amount of time, as we had a birthday party to attend at 3 Sunday afternoon. So I limited my choices to the section(s) of the book centered around the Texas Hill-country. Generally speaking, these would include areas we could get to within an hour-to-two hour time frame.
In the Texas Landmark Café book, I noticed several places that made my mouth water. I flipped through the OTBP book to see if there was anything else that sounded good and noticed they had a place that I had just flipped through in my TLC book. (It wasn't until this morning I noticed both books were written by the same author!) I asked Jed if he wanted to try the Monument Café in Georgetown, a mere 20 miles from our house. Not quite as "off" the path as I would have hoped, but off enough! He said, "Isn't that the place that Kevin & Leslie keep raving about and asking us to go with them"? I sent Les a text message asking her if it was and asking if her husband wanted to join Jed, the boys, and I for lunch. She replied that it was the place and to eat some fried pies for her…but Kevie had other plans (that didn't include hanging out with homos that worship him).
Jed and I loaded up the boys, programmed in the address in the GPS and headed up the road to Georgetown, Texas. When we got to the location identified in the book I was disappointed in seeing an empty parking lot and, what appeared to be, a vacant building. I thought, surely, the GPS was wrong…so I circled around some blocks and tried to find it. We were navigated back to the vacant building. I pulled into the parking lot and there was a tiny little handwritten note on the front door that said they had moved to their new location. YAAAAY…not a wasted trip. Having reprogrammed the GPS, we headed a bit further north to the brand new location.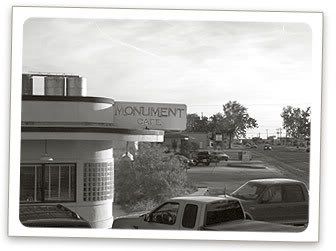 There were some really, really good things about this place, and some things that were really, really bad. Let's start with the bad???
#1: For starters, there were 350,000 people waiting to get in. Is that good, or bad? Depends on how you look at it. 350,000 people trying to get into a place means the food either is good, or is covered in crack. It also means a wait. Though, seriously, I don't think we had to wait more than 10 minutes…and so I guess, now that I've added this to the bad column, it really wasn't all that bad. BUT…#2: We arrived at 1115 am on a Sunday. They cut their breakfast service off at 11. Who the fuck cuts their breakfast off at 11 on a WEEKEND? ESPECIALLY on a Sunday? Don't they know this is prime breakfast eating time? This is when, as evidenced by the 349,996 other people wearing their Sunday suits waiting to get in, PEOPLE ARE HUNGRY FOR BREAKFAST. Now that I've mentioned #3: the 349,996 people in their Sunday suits, I suppose it's time to mention another uncomfortable fact. It was clear that Sunday, January 11, 2009 was the first time 349,996 people in Georgetown, Texas ever saw two gay men with children in their lives. Talk about awkward stares. JESUS H. MARY-CHRIST. Adrian asked, at one point, "Daddy, what's everyone looking at"? #4: They had a menu board FULL of delicious "vegetables". Seriously savory, mouth-watering vegetables…like Mac n' Cheese, fried zucchini, fried squash, French fries, cabbage…with fried bacon. They had ONE healthy vegetable, steamed broccoli, on the menu. We ordered our dinner(s). Adrian got the fried chicken strips with macaroni. Nathan got the fried steak fingers with macaroni. I got the chicken fried steak with mashed potatoes, mac n' cheese, and fried zucchini. Jed got the chicken fried chicken with the STEAMED BROCCOLI, onion rings and French fries. The waitress came back ten minutes later and said, "Sir, I'm sorry, but we DON'T have broccoli today". He ended up getting fried zucchini instead. YES, everything on Jed's plate was fried! #5: The bill, JESUS CHRIST, was it expensive for a lunch. $62 for the four of us.
So now the good. HOLY SHIT THAT FOOD WAS GOOD! Was it worth $62? HELL NO. Was it worth writing a blog about? Hell yeah. Is it worth going back? Maybe. The chicken fried steak was done right. It wasn't a leathery, gristly piece of meat. It was prepared the right way…prepared in such a way that it could be cut with a plastic spork. It DID need some seasoning (IE: salt), but otherwise, was great. The mashed potatoes were REAL potatoes…though, curiously, they didn't have gravy on them. Weird. The mac n' cheese was HEAVENLY. OH-MY-GOD, was the mac n' cheese good. And the fried zucchini was both interesting and delicious. It was the first time I'd ever had fried zucchini that was sliced the length of the zucchini, rather than "medallions" of zucchini. They were properly coated and brilliantly fried…not limp and disgusting. Jed's onion rings were delicious…and the fried chicken (strips) were tasty too. All of the food we had was delicious. When the waitress came and asked us if we wanted desert the Presbyterians were starting to replace the seats vacated by the Lutherans...and the stares were starting up again. We told her no thanks (besides, there wasn't any room in our bellies!).
If you're in the area and looking to try some delicious southern comfort food, DO check out the Monument Café in Georgetown. Though, it's not at 1953 South Austin, you'll find it just up the road a spell at 500 S. Austin!