To respond to my critics, no.  I'm not at a loss of material.  I have a four year-old, my life is nothing but material.  I just like to spin it out a bit, sometimes, and not make my blogs all about me.  Now that I got that melesscentric post out of the way, we can get back to talking about me, if that's what you really, really want.
My boo switched it up a bit this weekend and mentioned last night, when going to bed, that he'd get up with the boys this morning.  It meant that I got to sleep in this morning.  And boy, did I need it.  I started moving around about the time that I smelled the coffee brewing.  I came out of to a surprisingly quiet house.  Quiet because there weren't nobody here!  This NEVER happens.  Where, oh where, could my boo and the kids have gone?  Was it planned?  Was this premeditated?  My quiet would be short lived.
The boo and the twin bulls came bursting in the door with BREAKFAST ($11.20), from McDonald's!  It was a banner day, indeed.  Adrian announced, "DADDY!  I GOT A MAGIC WATCH!"…and I knew it was going to be a fantastic day.  A magic watch!  WITH BREAKFAST. 
We piddled around the house a while.  Adrian cleaned his room a couple of times while Nathan kept messing it up.  After watching more America's Next Top Model than I could stand I begged the Kat to get us out of the house.  I convinced him to take another stab at one of our road-trip restaurants/cafes.  There's one out of Austin, just a hair, that we were told about several weeks ago.  It's a little town called "Manor", and, while technically not Austin, it may as well be. 
290 Cafe is, obviously, on 290 about 15 minutes outside of Austin.  They're well known for their chicken fried steak, and for good reason.  While I really was in the mood for a breakfastie type item, I went for lunch instead.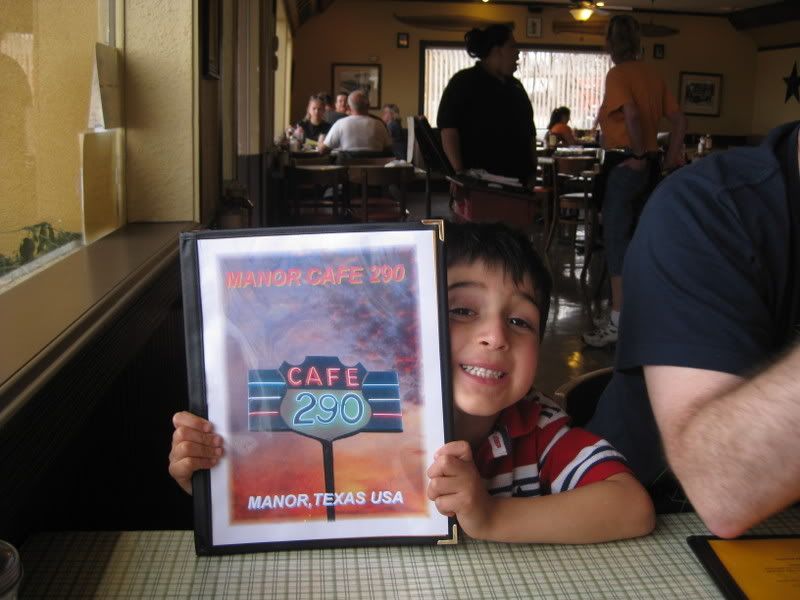 I was hard pressed to find something that didn't sound good on the menu.  Granted, 70 percent of the items were fried, I'm not passing judgment, yet.  ALL other items were standard "comfort food" items: Roast beef & veggies, fried shrimps, etc.  After I heard the boo order his "chicken fried chicken", I realized he was doing me a favor and opening the door for me to order the chicken fried steak.  We started off requesting an appeteaser of their onion rings and, for some stupid reason, proceeded to order the rest of our lunch as well.  Chicken strips for Nate, Steak strips for Adrian.  Chicken fried chicken with fries and okra for poppa, chicken fried steak with mashed taters and okra for me.  I was a little disappointed when everything came out together, but…
It was quite tasty:
And yes, quite fried.  Now, I did have one problem with it.  The batter was the same batter for everything, except for the okra.  The okra had a different type of batter.  But the onion rings tasted like the French fries tasted like the chicken fried steak tasted like the chicken fried chicken.  That's coo.  I realize there's only so many batters to pick  from.  It was tasty nonetheless.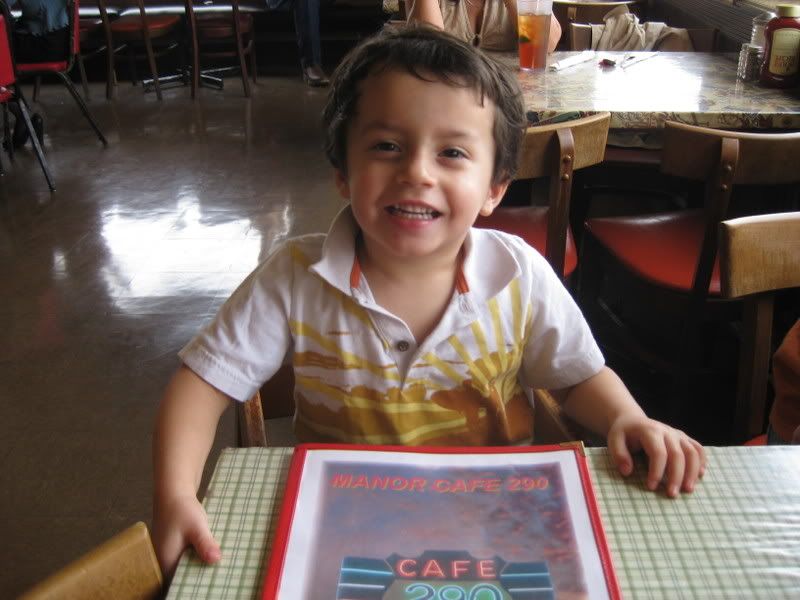 Now, clearly this picture was taken BEFORE Nathan started eating.  There's no ketchup/gravy/grease anywhere on the shirt, that's the dead give-a-way.  But the smile on his face PRE food was as big as his smile post food.  The grand total for all this deliciousness?  $51.64.  I personally felt like it was a bit expensive, particularly for lunch in a small town cafe.  I have to give the 290 Cafe a whopping 4.5 stars. 
After lunch we headed back to the house for mandatory nap time.  I'm a bit sadsies that Adrian "don't want" or "don't need" naps any more.  Really, it's one of the things I counted on for the first 2 years of his life.  Fortunately Nate still digs his sleepy time.  I have NO idea what I'm going to do when he's too big for naps. 
Adrian had been begging for a movie all day.  I decided to take him and the brother to see "Dog Hotel" at the theater.  JEZUS CHRIST the movies are expensive anymore.  $20.50 for the tickets (just for 3…we still have Nathan play "two-year-old" since he's not talking yet!) and $17.50 for the popcorn and 2 drinks.  Adrian also wanted CANDY, and knowing this in advance, I stopped at Sun Harvest on the way to the theater and picked up a pounder of gummi-worms ($1.20), cuz there was no way I was paying $7/.25 pound at the theater.  I really dug  the show.  It was funny (for kids), emotional (for parents who have adopted children), and cute.  Sure it won't win any awards, but it was still cute.  I mean, come on.  It had DOGS for goodness sakes.
Before we left the house for the cafe, I had put a crock pot of beef stew on. 
***COMPLETELY RANDOM THOUGHT:  I HATE that newer crock pots these days have plastic lids instead of the regular heavy glass lids.  I really feel like they don't get weighted down enough to keep the heat in properly.
Dinner was waiting for us when we got home, the house smelled delish.  Not that we needed anything to eat after 2 gallons of popcorn and 6 (combined) liters of soda. 
I forgot to mention, while at the 290, I was a bit of an "A-Hole".  To make up for it, I went to buy Jed a bottle of booze ($14.06) to make him some tasty frozen drinks and fill up his car with gas ($17.81) to make up for it.  Yeah, apologizing is easier, but…
So that's how I ended up spending $133.91 today.  I can't believe I spent so much money, but spending the time with the family…so much fun.