Most restaurants would flip out if they had a rodent infestation. Today Adrian and I went to a place that not only embraces rodents, they have them on payroll!
On Friday, the day Adrian had a melt down at school, I found, stuffed in the bottom of his back pack, an invitation to a classmate's birthday party. The party was today at Chuck E. Cheeses, and I have to admit I had a lot more fun than I anticipated. Don't get me wrong. We're not getting a family fun pass or anything, but yeah. It was a'ight. And the diarrhea hasn't started yet, so bonus.
Anthony's mothers started the kids out with a coloring activity. If the kids finished a picture, they were given an additional 12 tokens (3 dollars) to play the games and ride the rides.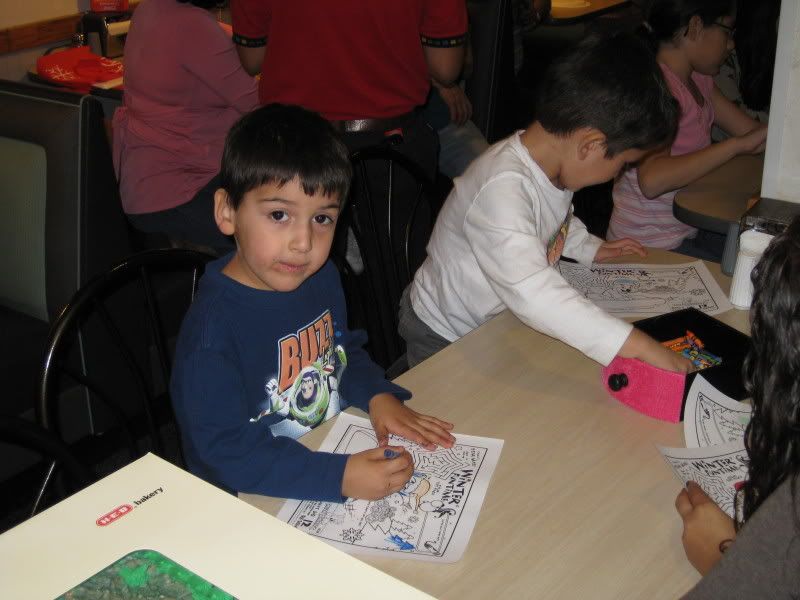 We were positioned right next to the animatronic stages, so it made the coloring seem boring. "The Kids" (Adrian and Anthony…and later Lilianna) were more interested in dancing with the robots.
Following subpar pizza and sodas, the kids were cut loose to play for a bit. Anthony and Adrian chased each other around the indoor playscape, and then I was able to coax Adrian onto a few theme rides.
The picture above was a roller coaster adventure. There is a screen in front of the cart and the cart, in theory, is supposed to mimic the actions of the ride. HOWEVER, I was watching from behind and the ride was out of sync with the video. Adrian didn't seem to notice and had a great time.
I had posted a twitpic when I got there of the delicious candy apples Anthony's mom had made. I was jealous. I so totally wanted one.
But at least I was able to have some of this cake. Folks, when I tell you this cake was the bomb, it was the bomb-digityest-bomb-bomb of cakes I've had in a long time. I wasn't a huge fan of the icing, but the cake itself was a white cake with a strawberry cream cheese filling and sliced strawberries on top of the cream cheese. I almost nutted in Chuck E. Cheeses. How embarrassing is that?
The absolute best part of the occasion though, was I got to get this very sweet picture of my sweet little boy. I love that kid, and am glad that he's got friends that will invite him to Chucky's.
Completely random thought
, I just felt a crown fall off in my mouth. JESUS! Seriously? THREE WEEKS BEFORE CHRISTMAS? Why can't they fall off in March when the IRS pays me back???